Poison Maps

The Ultimate Maps App
Poison Maps contains over 24 million POIs that cover the whole world. The towns and cities are sourced from GeoNames. All other POIs come from OpenStreetMap, which is often called the "Wikipedia of Maps" because the data is entered by members of the public. So if you see any errors or omissions then please consider modifying the data yourself.
Poison Maps contains all of the OpenStreetMap POIs that may be useful to you. This means everything from airports to bus stops; from theme parks to prisons; from shopping malls to corner shops; from swimming pools to park fountains; from hospitals to pharmacies and so on. If it is on OpenStreetMap then it is probably in Poison Maps.
The top level screen shows POIs of all types, with a colour scheme that enables you to tell the type of POIs at a glance. For example transport POIs are red, tourism POIs are blue, food POIs are brown, and shopping POIs are pink (of course). This makes it easy to spot the general usage of areas; for example below left you can see restaurants and bars dominate the area on the left, with shops along the road on the right. The screenshot below right shows an area of mostly hotels.
Each POI category can be filtered by subcategory, and in most cases the subcategories can be filtered even further still. So for example you can show all the accommodation POIs, or just the mid-price hotels, or just the Hilton Garden brand. The lowest level is often a list of brand names and their easily recognisable icons, such as for hotels, banks, fuel stations, coffee shops, car dealers, supermarkets, car rental, mobile phone shops, bookshops etc.
The order of all subtypes of categories and subcategories can be customized by the user. So for instance you may wish to move Indian and Thai cuisine to the top of your favourite restaurants; or put your bank, make of car, type of religion or mobile phone shop at the top of the appropriate Favourites lists. Or if you prefer your tourist attractions to be natural rather than themed, or interactive rather than historical, then simply reorder your favourites.
If you zoom out then Poison Maps shows the largest or most important POIs in each area. If importance is not applicable then the app shows the most common types of POI in each area, so you can see the most popular brands, cuisines, sports, and even religions for each region. For instance in the example below you can see how France, Spain and Italy prefer their own cuisines; pizza is popular everywhere; and the UK and Ireland are fond of Indian and Chinese food.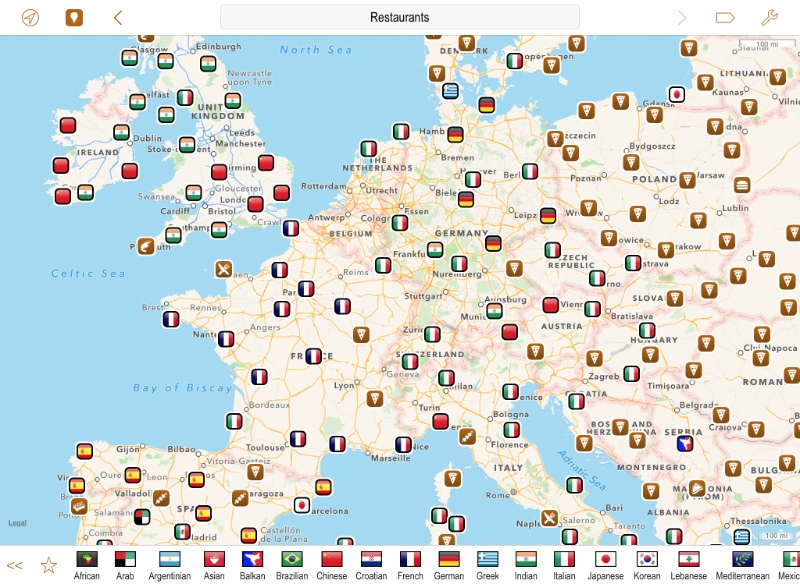 Admittedly there are more useful features in Poison Maps, but seeing these distributions can often be very interesting. It also shows the versatility of this multi-faceted app!